Cat Litter Odour Buster™ Natural Unscented
Back soon
Original price
CHF 24.90
-
Original price
CHF 39.90
Cat parents seeking a lightweight, plant-based cat litter now have the best choice available to them! Odour Buster™ Natural Performance provides you and your cat with the most natural, dust-free cat litter that also eliminates odours. Odour Buster™ Natural Performance combines the properties of the corn cob with our exclusive odour and bacteria eliminating ingredients. The result is simply the best biodegradable cat litter!
Lightweight

Dust-free

Clumping litter

Fragrance and chemical free and biodegradable

Made from naturally dried corn scraps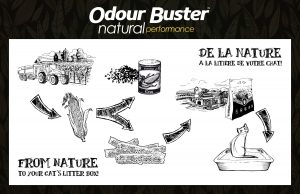 COMPOSITION
Odour Buster™ Natural Performance is made from corn cobs repurposed from the agri-food industry. Once the kernels have been harvested for use in foods, the cob doesn't go to waste! It is dried naturally and ground to create our litter. 
ABOUT CORN COB LITTER
Corn cobs offer a highly absorbent and renewable source material. Because of this, they are used in many industries where liquid absorption is important. In cat litter, they absorb urine quickly and help to control odours. 
WHY CHOOSE ODOUR BUSTER™ NATURAL PERFORMANCE?
Made from naturally dried and ground corn cobs, Odour Buster™ Natural Performance is biodegradable. It uses the power of the corn cob and the exclusive Odour Buster™ recipe to offer your cat a completely natural, safe, dust-free and odour-free litter that is also soft on sensitive paws. Your cats will love it!